Hello.

Can anybody help me what is what in eeprom from CLX3305FW.

I would like to identify all counters (fusser, imaging unit, transfer unit (belt) etc), but the most important for now are the tonner colors usage.

Below you can see the compare between two reads. Left is after printing one black text page, and the right is before. I can see that pages count is at 0xFB14 offset. Is the percentage usage based only on pages count?

Since I don't have permissions to upload an image, you can see the compare below (not all yellow fields are different, but program tries to be smart).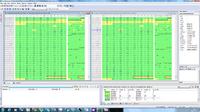 Thanks in advance.
456.71 KB, Downloads: 6